Features
Compare
The Auditzy Compare feature is an invaluable tool that goes beyond just comparing your Portfolio Website. It also allows you to benchmark your website against those of various competitors.
This comprehensive analysis helps you identify disparities and areas for improvement, ultimately enhancing the quality of your website.
The Importance of Comparing Your Website with Competitors

Harnessing the power of the comparison feature provides you with a strategic advantage, offering actionable insights that can drive website optimization and foster business growth.
Gain Competitive Edge: Identify critical areas for improvement by recognizing disparities and learning from your competitors' strengths.
Market Insight: Gain a deeper understanding of your position within the market, enabling you to make well-informed decisions.
Stay at the Forefront: Detect industry trends early on, allowing you to adapt and innovate, keeping your business ahead of the curve.
Set Performance Targets: Establish achievable benchmarks for continuous growth and ongoing success.
How to perform a comparison?

To initiate a comparison between portfolios or competitors, commence by clicking on the New Comparison button.

Then follow these steps:
Choose the Mode (Desktop or Mobile) for your intended comparison.
From the dropdown menu, select a website (Portfolio/Competitor).
Specify the desired page and select the audit detail you wish to compare.
Repeat the process for the second website, ensuring you select the corresponding details, then press the Compare button to generate a Comparison Report.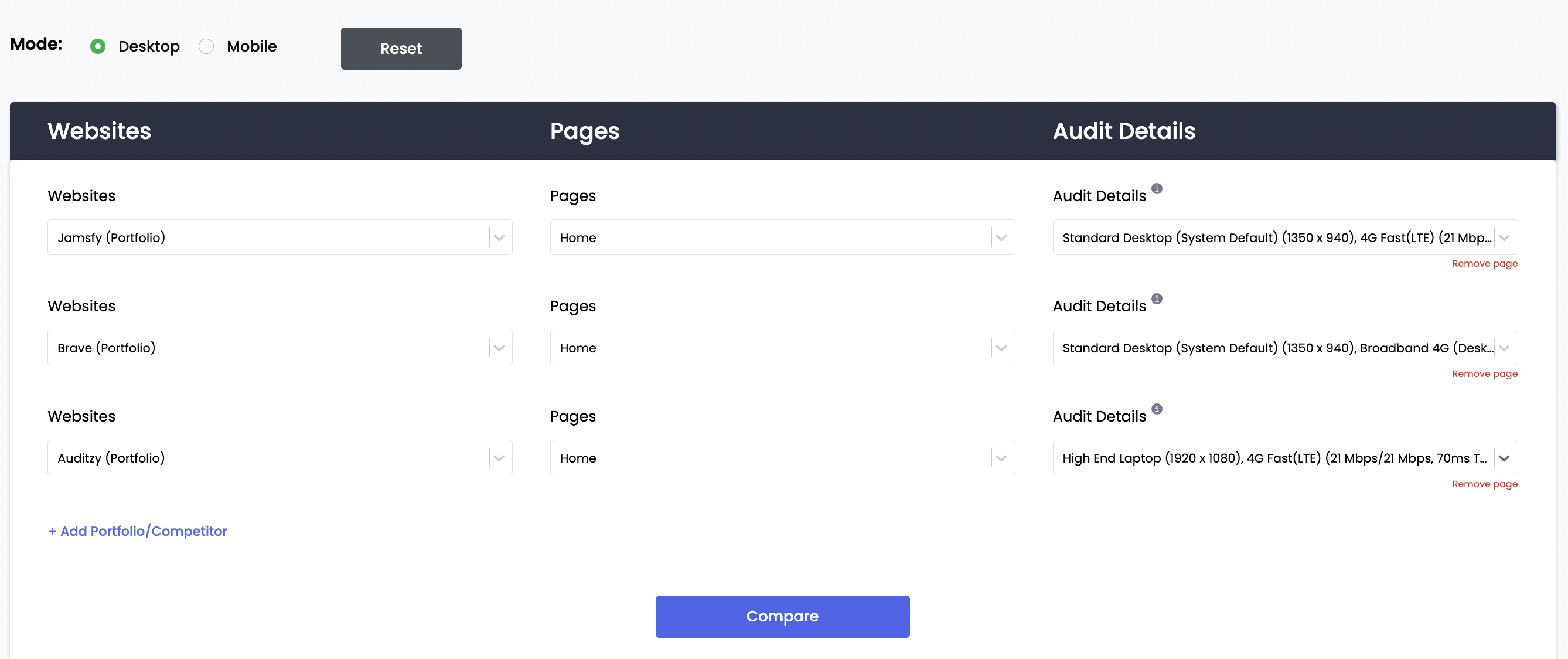 For even more comprehensive insights, you have the option to include more than two websites for comparison. Simply click on the Add Portfolio/Comparison button to add more website and expand your analysis.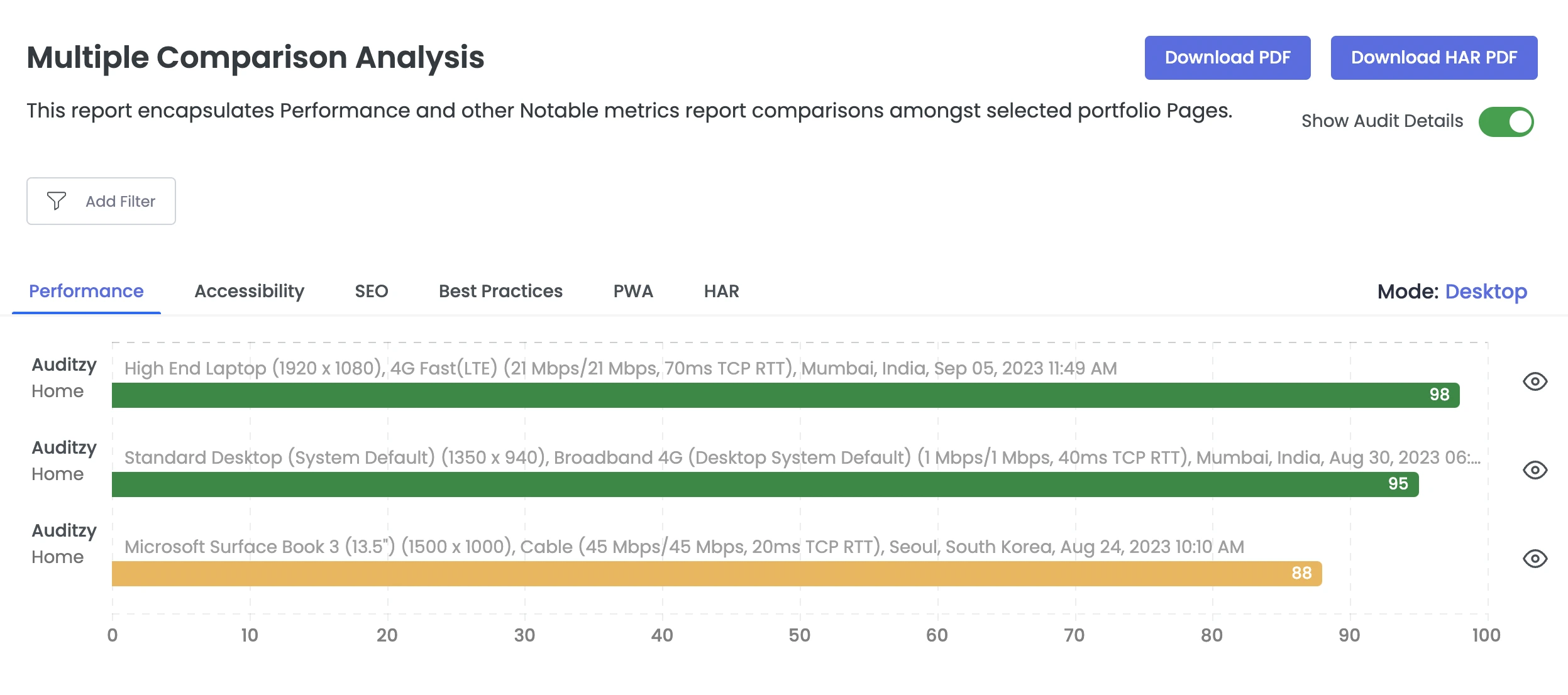 The report provides a comprehensive analysis of Performance and other significant metrics which include Accessibility, SEO, Best Practices, PWA and HAR thus highlighting comparisons among the selected website pages.

You also have the option to directly compare different audits for the same portfolio or competito page. To do this, simply visit the the Audit History page of the desired page and select the audits you wish to compare and the report will be generated as you select/deselect them in real time.

Downloading Comparison and HAR Reports:

If you want you can obtain the Comparison report in PDF format by clicking the Download PDF button located in the top right corner of the report. Furthermore, you can readily download the HAR (HTTP Archive) PDF by selecting the adjacent Download HAR PDF button.

When downloading the report, please be aware that browser extensions can affect the report's layout. To ensure the layout remains intact, we recommend disabling any installed extensions in your browser before downloading the report.
Share Reports

You can easily share your compare reports with anyone. Simply locate the Share Report button at the top right corner of your report. Once you click on it, a link to your comparison report will be copied automatically.

Feel free to share this link with anyone you choose, and they'll be able to effortlessly view your detailed comparison reports.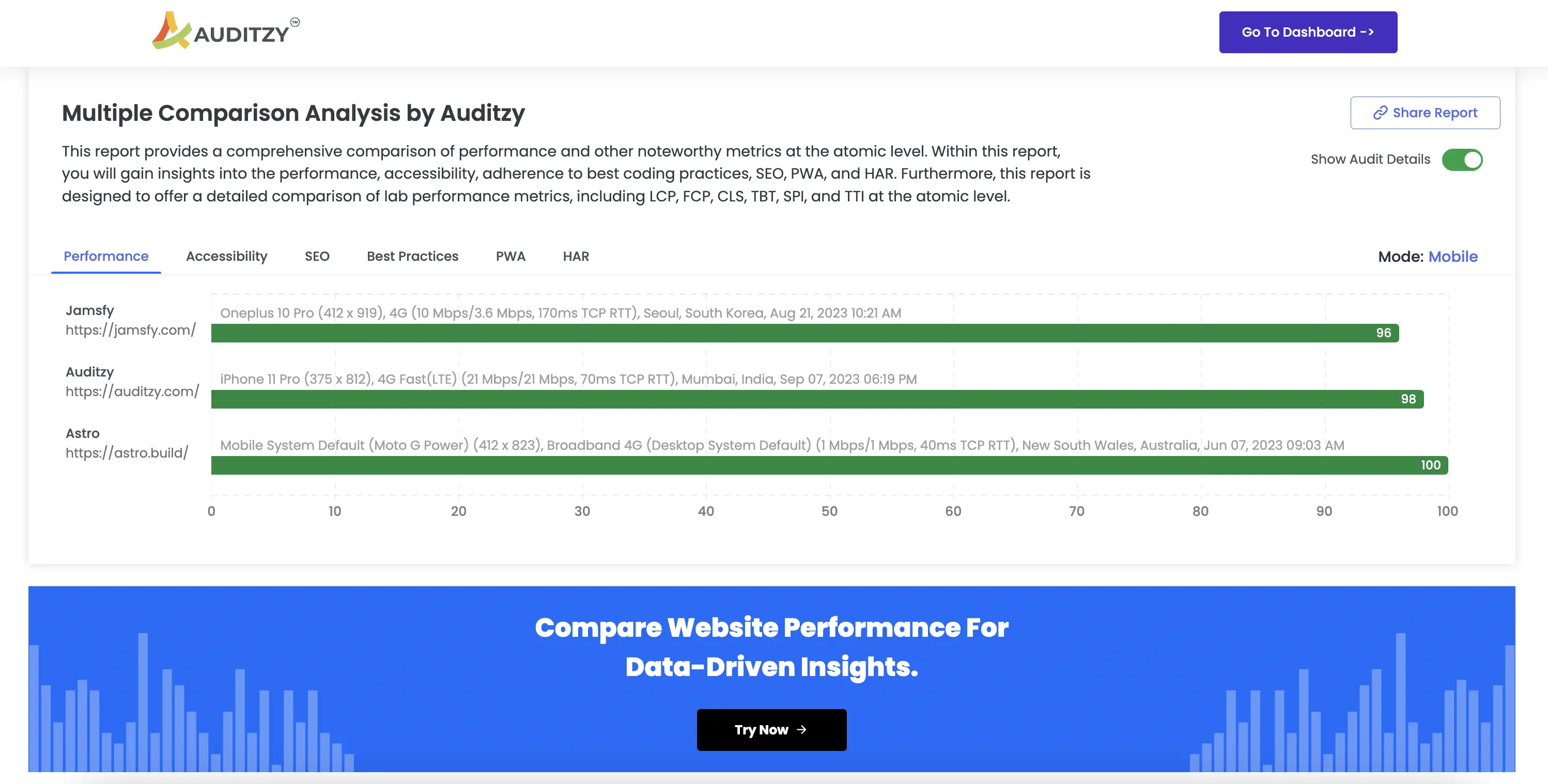 Got Questions or Need Help??

Do you have inquiries or need assistance specifically related to Auditzy's Comparison feature? Interested in a demo to explore how the Comparison feature can benefit your analysis? Our support team is here to provide the guidance you need!
Explore Auditzy for Free Today

Start monitoring your website with a  Free 14-day trial (No Credit Card required), or run a Free Historical Core Web Vitals Test today.