Integrations
Slack
Auditzy offers a robust feature that simplifies the process of receiving audit notifications and reports in your Slack channels.
This integration makes it easy to stay informed about audit scores and completion status, all without having to navigate the Auditzy platform. You can effortlessly access real-time information through this streamlined communication channel.
Key Advantages of Slack Integration with Auditzy:
Immediate Audit Notifications: Gain instant access to audit completion updates for your portfolios or competitors right within your Slack workspace. Stay informed and stay ahead.

Effortless Information: By connecting Auditzy with Slack, you can effortlessly receive audit scores and progress updates without the need to log in separately. Enjoy the convenience of real-time data at your fingertips.

Scheduled Audit Reports: Combine Auditzy's scheduling feature with Slack integration to receive regular audit reports tailored to your preferred frequency and workflow. Stay organized and informed on your terms.

Enhanced Team Collaboration: Foster seamless collaboration among your teams with Auditzy's integration with Slack. Receive audit updates directly in your team's Slack channel, enhancing transparency and ensuring everyone is on the same page regarding audit progress.
How to Integrate Auditzy with Slack:
Step 1: Go to Integrations
Log in to your Auditzy account.
Navigate to the Integrations section on the left sidebar and click on Slack.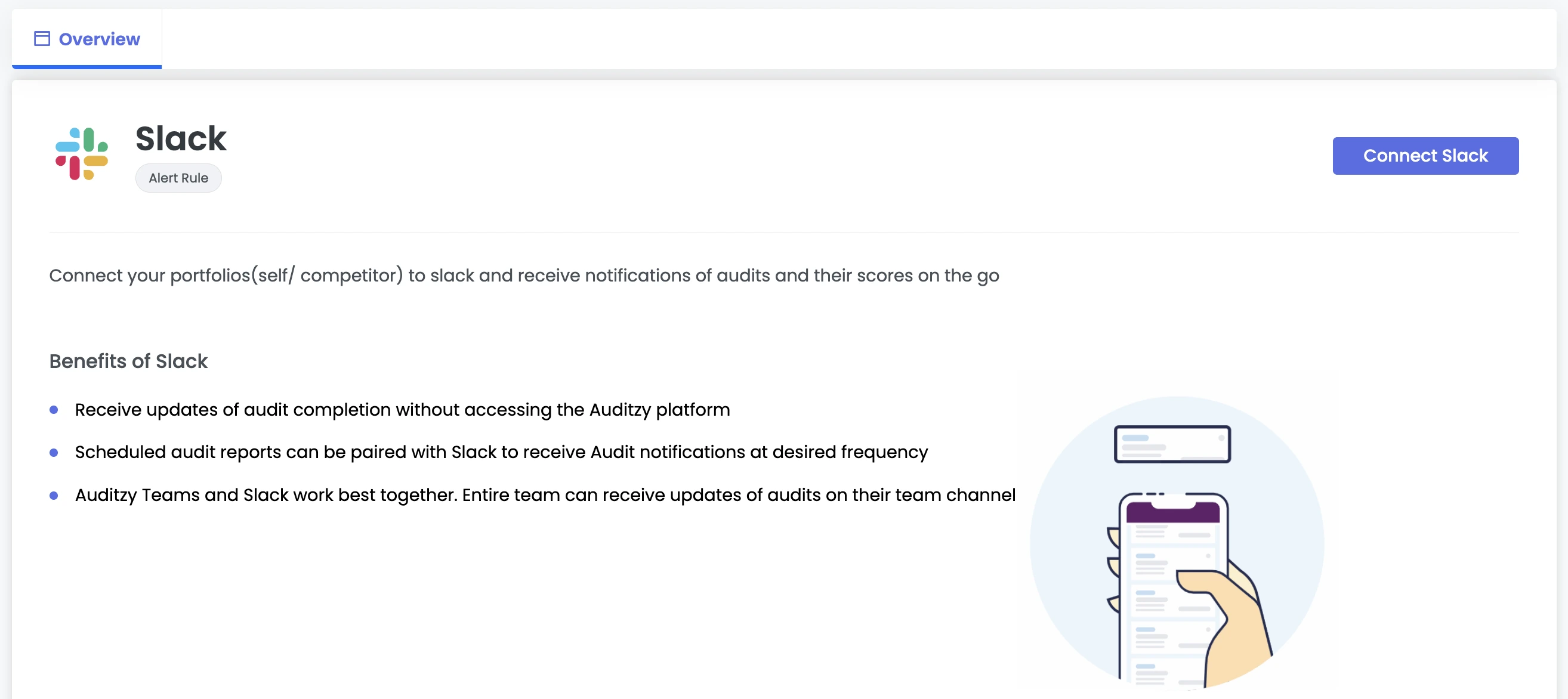 Step 2: Connect to Slack
Click on the Connect Slack button.
You'll be directed to a Slack OAuth page, where you'll have the opportunity to choose the specific channel you wish to connect with Auditzy. After selecting your desired channel, simply click the Allow button to proceed with the integration.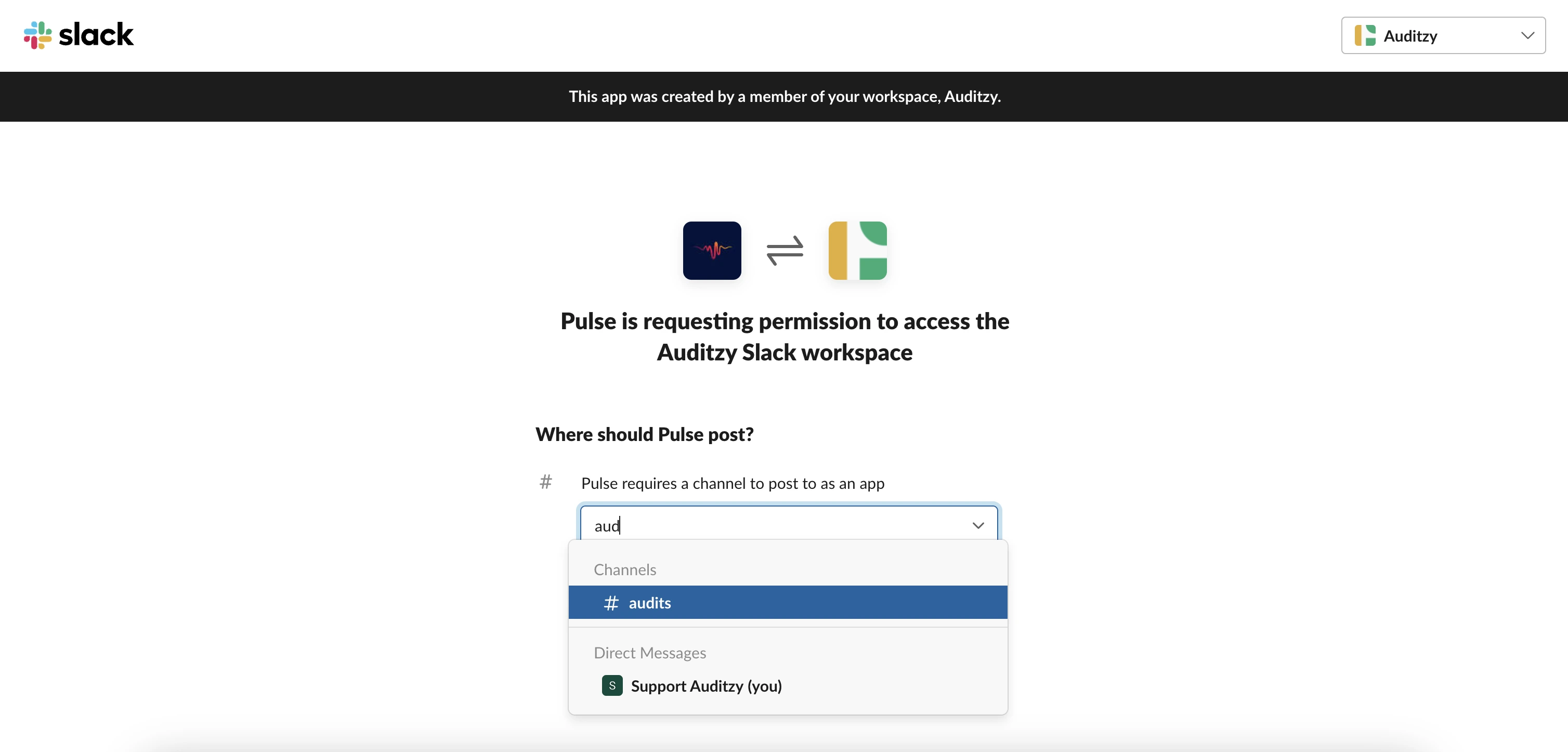 Upon redirection back to Auditzy, you'll notice the addition of two new tabs: "Configurations" and "Channels." Your recently connected channel will be visible under the "Channels" tab for your convenience.

Step 3: Configure Notifications to Pages
Once a slack channel is connected, you can configure the notifications for the pages of portfolio/competitor.
Visit the Portfolio/Competitor page listing and click on the three dots to extend the menu. Then click on Connect Slack for the desired page you want notifications to be turned on for.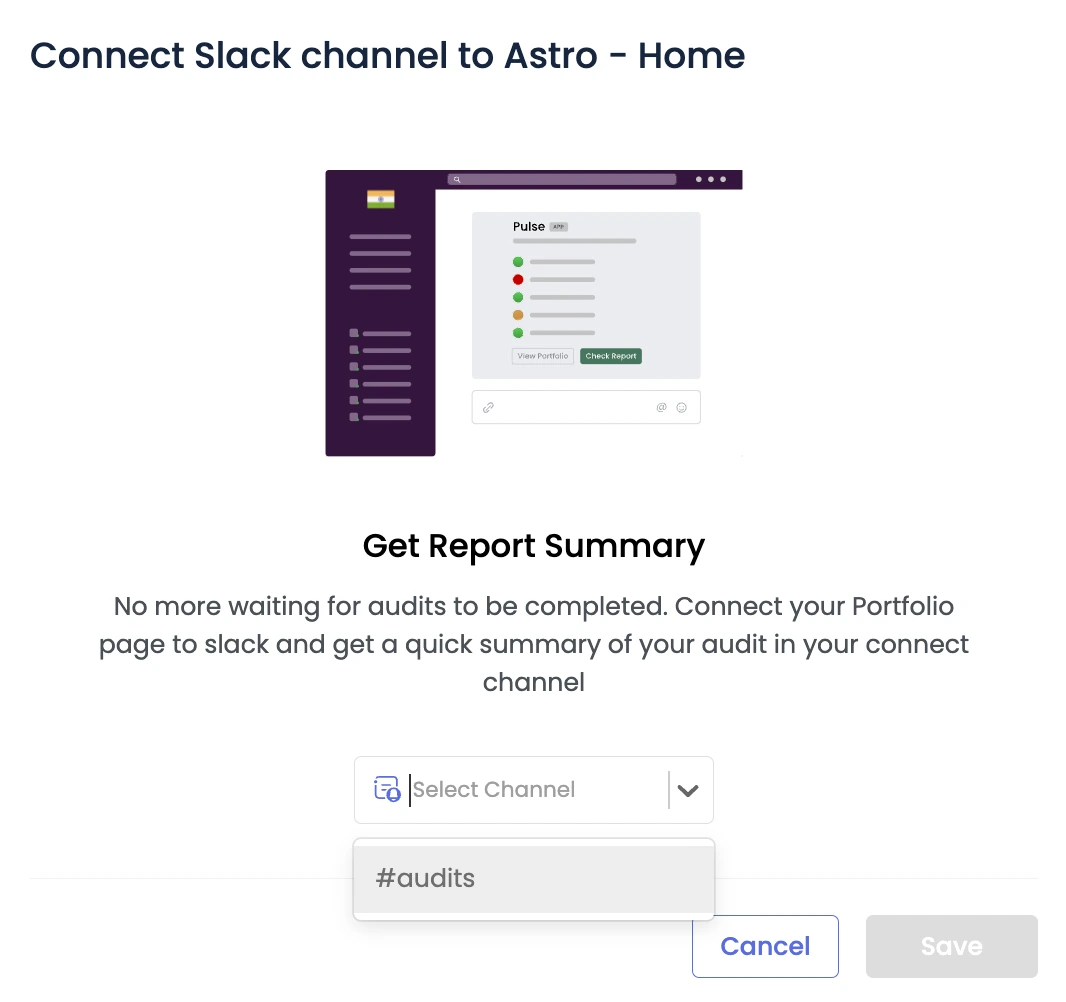 To confirm your choice, click on the Save button. Once saved, you will start receiving performance web metric details in the connected Slack channel every time an audit is conducted for the respective page.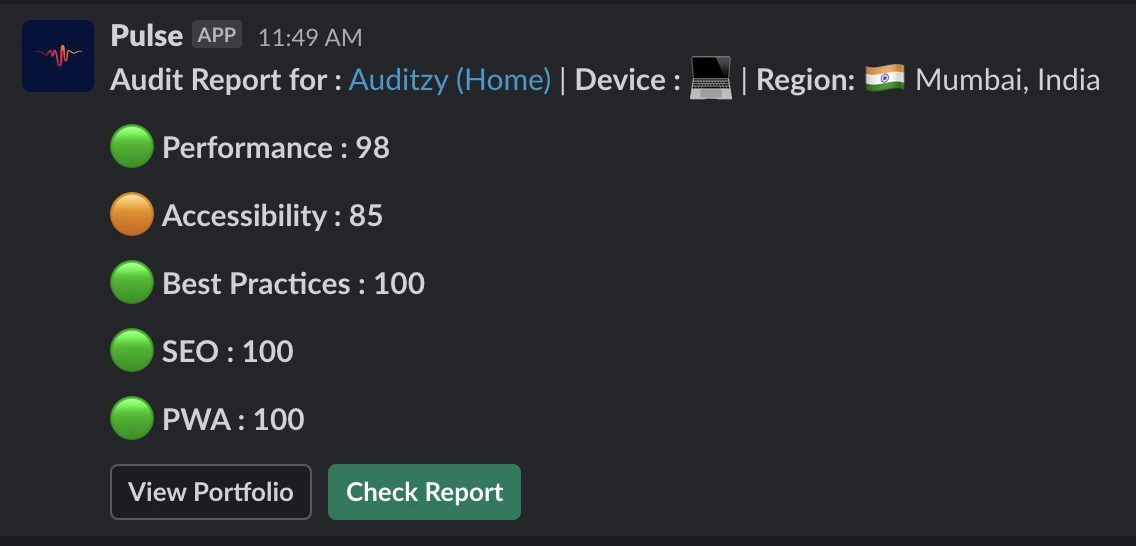 To remove the Slack connection for a specific page, simply navigate to the respective page listing and click on the three-dot menu. From there, select the Remove Slack Notifications option. This will allow you to easily disconnect Slack notifications for that particular page.
Slack Configurations

In the Configurations section for Slack, you can access a list of all the pages within your portfolio/competitor that are linked to a specific Slack channel. The highlighted text indicates the name of the Slack channel that is currently connected to those pages. This provides an easy overview of your channel connections.

Right next to each connection, you'll find a Delete button. Clicking on this button will effectively disconnect Slack from the associated page. Once disconnected, you will no longer receive notifications on Slack for that specific connection. This action allows you to manage your Slack integrations easily.

Additionally, there's the Disable button, which acts like a toggle switch to enable or disable Slack notifications for a particular page. When it's turned off, you won't receive any notifications on Slack regarding audits for that specific page. This feature gives you control over when and where you receive notifications, allowing for a more tailored experience.

When you encounter a green bubble adjacent to a connection, it signifies that the connection is associated with a page from a portfolio website. Conversely, if you spot a purple bubble, it indicates that the connection is linked to a competitor's website. This color-coded system helps you quickly distinguish between the two types of connections.
Slack Channels

In the Channel section for Slack, you can access a list of all the Slack channels you have added. You have the option to delete existing channels, as well as add new ones. To add a new channel, simply click on the Add Channel button. This provides flexibility in managing your Slack channel connections within Auditzy.

It's important to note that you cannot delete a Slack channel if that channel is currently connected to any of the pages within Auditzy. To remove a Slack channel, you must first disconnect the specific page(s) associated with that channel. Once the pages are disconnected, you can then proceed to delete the Slack channel.
Got Questions or Need Help?

For any inquiries or support related to Auditzy's Slack integration, including setup, configuration, or problem-solving, please don't hesitate to contact our support team.

Would you like to see a demo of our product? We're here to help you achieve your goals effectively.
Explore Auditzy for Free Today

Start monitoring your website with a  Free 14-day trial (No Credit Card required), or run a Free Historical Core Web Vitals Test today.