Features
Quick Audit
Auditzy's Quick Audit feature allows you to rapidly assess a website's speed and performance by providing a URL directly. Simply enter a URL and customize the test parameters, including device type, network settings, and server locations to get a Audit report for your URL.
This feature provides valuable insights into your website's performance, user experience, and accessibility with just a few clicks, allowing you to understand its strengths and areas for improvement.
How to do Quick Audits?

Initiating a quick audit is a breeze! Simply navigate to the Audit option in the left sidebar and select Quick Audit.

Follow these three steps:
Enter the URL you want to audit.

Configure your audit settings i.e. device, network and location. You can also set your default audit configurations by visiting the Settings > Profile > Preferred Config section.

Click on the Get Audit Report button.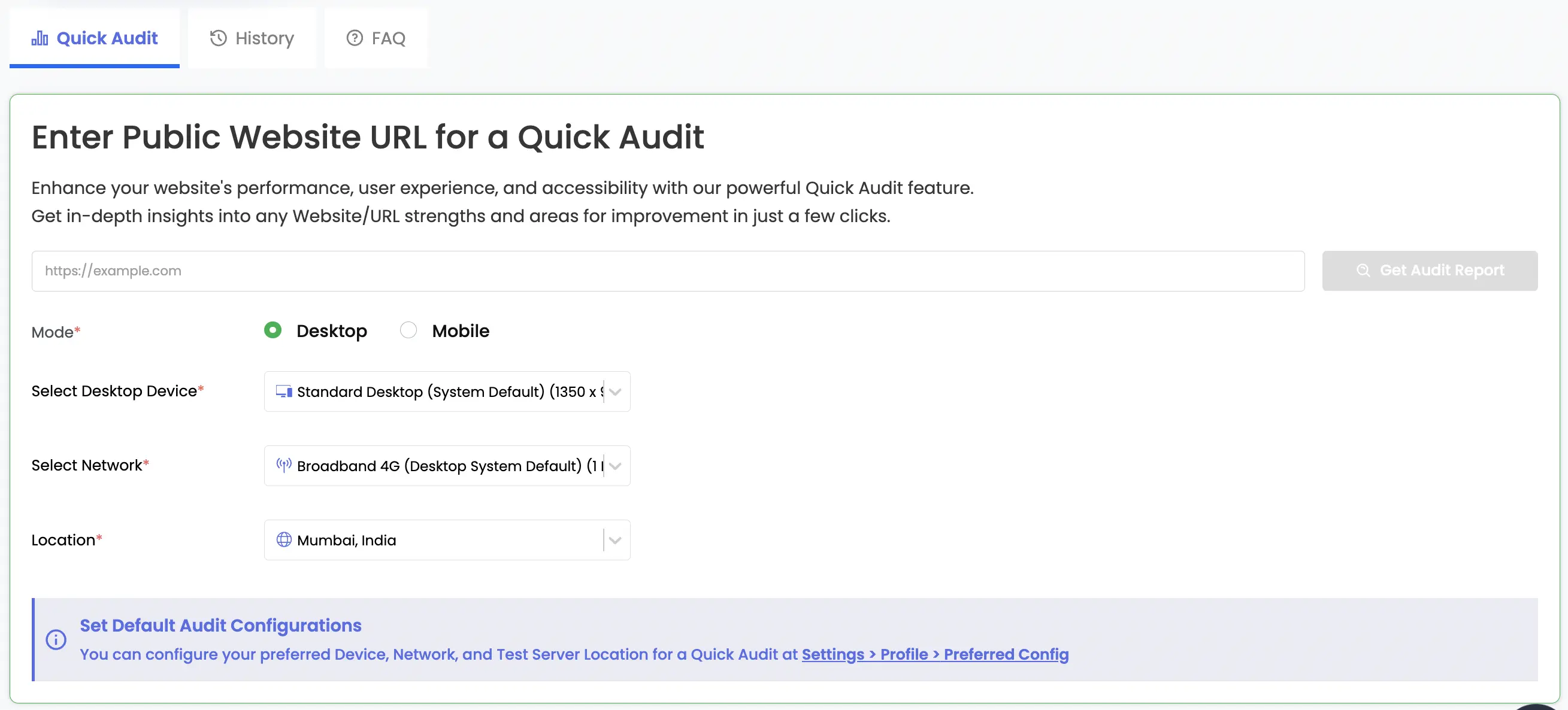 Once you click on the Get Audit Report button to start the audit it will start a quick audit processing queue at the bottom right of the page.
It takes an average of 30 seconds for the audit to complete depending on the URL. Once the audit is completed, the quick audit processing queue will be updated and you can click on the View Report button to view the report.
Quick Audit History

The History section for quick audit contains a record of all performed audits, allowing you to access and view reports for each individual audit. You can click on View Report icon under the Action column to see the report for that particular audit.

You can utilize search, sorting, and additional filters in the top-right corner to refine your quick audits based on device specifications.
Quick Audit Data will be automatically deleted within 90 days. We suggest creating a portfolio or competitor to retain data indefinitely.
Viewing the Report

Clicking on the View report button will redirect you to the detailed report. To delve deeper into the specifics of the audit report, please refer to our comprehensive documentation.

You can find detailed information by clicking here.
Share And Download Report

You can easily download or directly share a report. Just Click on View Report icon under Action section.

Once there, you'll find the following buttons:
Share Report :- Simply click this button to copy a link that you can share with anyone.
Download Report :- Click on this button to download the report in PDF format.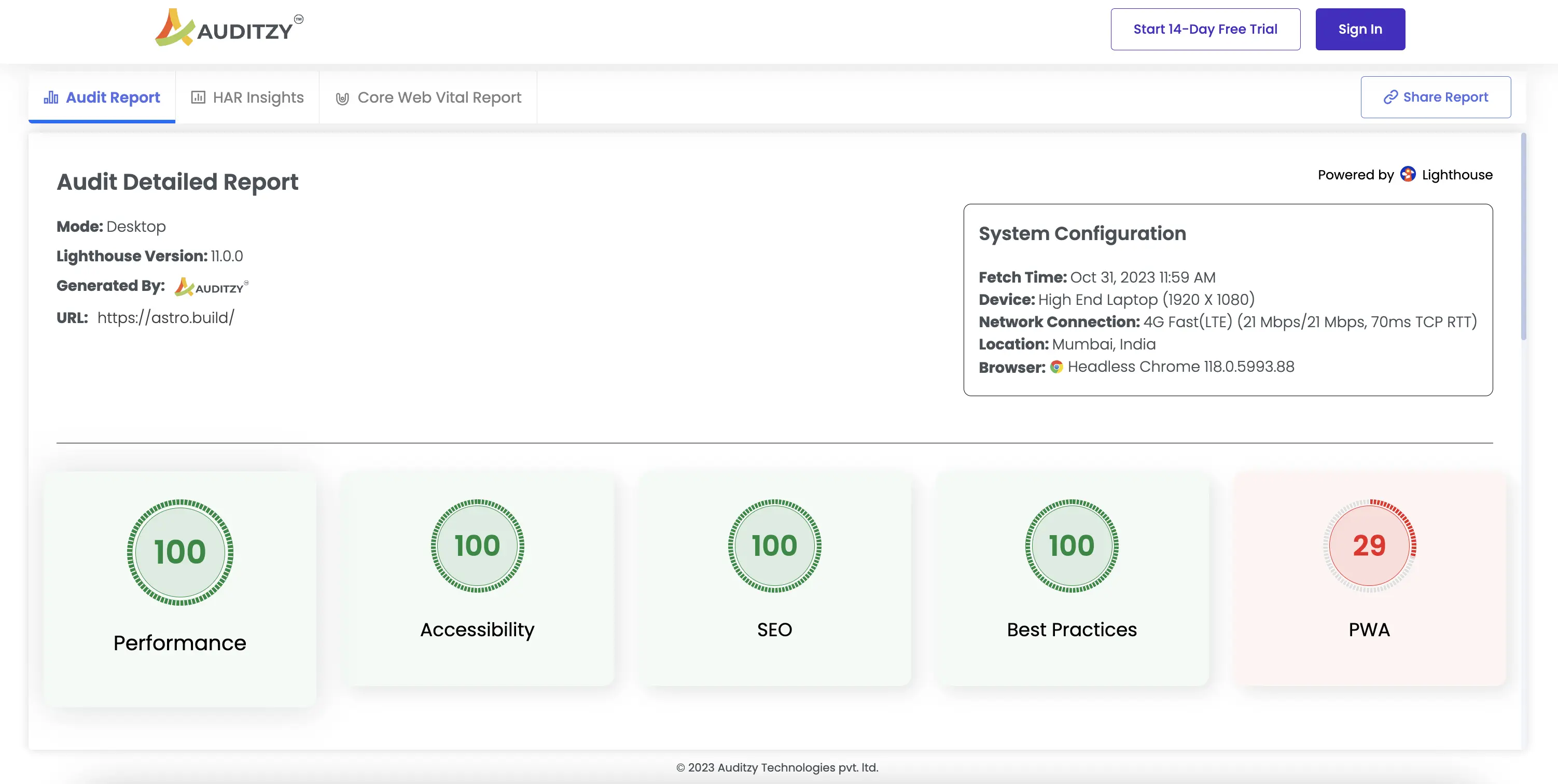 When downloading the report, please be aware that browser extensions can affect the report's layout. To ensure the layout remains intact, we recommend disabling any installed extensions in your browser before downloading the report.
Quick Audit FAQs

Within the Quick Audit section, we've thoughtfully included a dedicated FAQ area. Here, you'll find answers to commonly asked questions. If you ever have any doubts or inquiries, we encourage you to explore this section for quick and helpful solutions.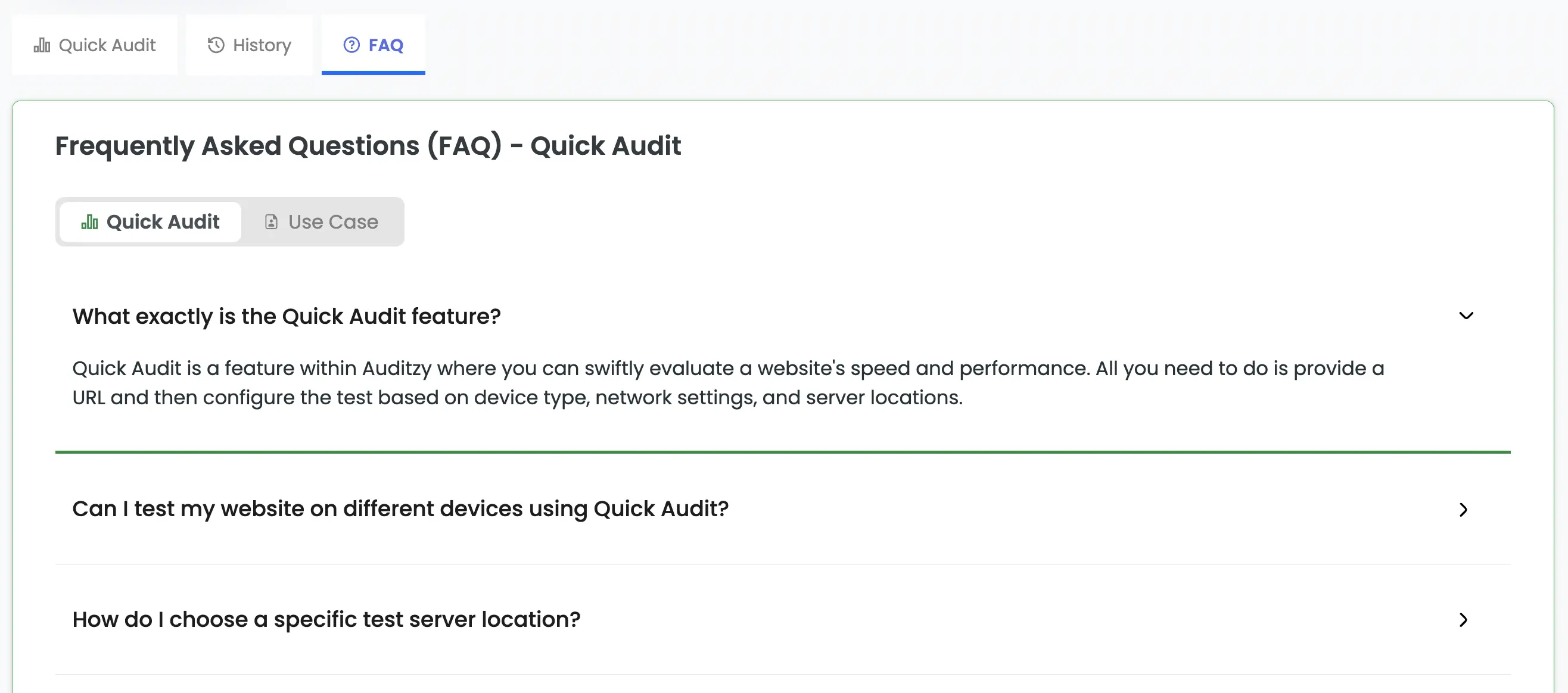 Got Questions or Need Help??

Do you have inquiries or need assistance specifically related to Auditzy's Quick Audit feature? Interested in a demo to explore how Quick Audit can enhance your Website/URL Speed and Performance testing?

Our support team is here to provide the guidance you need!
Explore Auditzy for Free Today

Start monitoring your website with a  Free 14-day trial (No Credit Card required), or run a Free Historical Core Web Vitals Test today.